Frontline Worker Eyeglass Giveaway
Ulla Eyewear is thrilled to introduce our Frontline Worker Giveaway for the entire month of March. We want to say thank you to all those courageous individuals who have been putting their health and safety on the line for us.
Winner receives a pair of frames and lenses valued up to $1,000 plus a personalized appointment with one of our expert opticians to help guide them to an incredible new pair.
All entries must be submitted between March 1st and  March 31st, 2021 and will be added to our "nomination bowl". The winner will be chosen at random and notified by April 2nd, 2021.
Nominate your favorite frontline worker today…and yes, you can nominate yourself!
TO ENTER CLICK HERE
All entries will be added to our "nomination bowl" and a winner will be chosen at random on April 2nd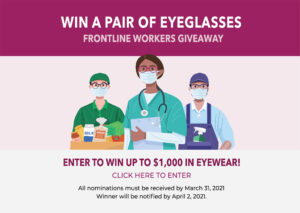 Frontline Workers Save until March 31, 2021
We're excited to offer $100 off the cost of a frame with lenses for all our frontline workers for the month of March!  Book an appointment to work with an optician to find your next pair of glasses, sunglasses, readers or computer glasses (to name a few) and we'd love to give you $100 off your order as a THANK YOU for all you do!
Additionally all frontline workers enjoy 50% off our incredible FOG FREE lens cleaner all month long.  We've searched high and low for a fog free option that truly worked and it's here and it's here to stay!