Each year we look forward to the last 6 weeks and our staff's favorite way to give back… Donate & Save.  From November 15 – December 31 we offer up to $100 off your purchase in exchange for your donation.  We accept donations of non perishable goods to the River Food Pantry and gently used glasses to the Lions Club.
Since 2013 we've been able to donate almost 1,000 pairs of glasses and 2,400 pounds of food and the numbers just keep growing!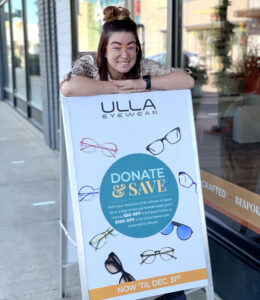 We know that these times are hard and the future feels constantly changing but just know that we are here; always working to create the best options and products for our customers.  If you are in search of a pair of glasses or sunglasses know that we have packages starting at $350 and can customize your order to meet your needs.  We're also excited that in 2021 we began to offer a 6 month payment plan with no interest or credit check.
Even after a tough 2020 and a tough 2021 we're thankful for you and all the support you've given us through the years.  May 2022 give us all health and prosperity.