President and Owner, ABOC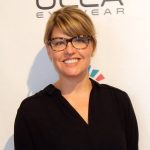 Life outside of Ulla:  I like to paint, run with my dog, cook and spend time with family and friends.
Why you enjoy your job: Running a business is extremely rewarding.  I get to work with a wonderful team of people, meet great customers and pick-out fabulous frames for the store.  We are there throughout the entire eyeglass experience making sure everyone walks out happy, looking great, and seeing their best.  Helping others is really important to us.
Love for other local businesses:  Muramoto,  Willy Street Co-op, Twigs, Madison Chocolate Co. and the list goes on….
Our Opticians
Here at Ulla Eyewear, our staff is more than just a team of salespeople. We are friendly, knowledgeable and well-trained opticians whose only objectives are to help guide you through our store of interesting and beautifully crafted frames, to choose lenses that best suit your prescription and lifestyle needs and to ensure you feel confident as you get out there to live your best life!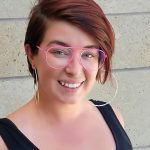 Life outside of Ulla: Outside of work I love spending time with family and wild Aussie pup Kingston.  You can find mesitting around a fire or the lake, playing music and enjoying the company of those I love most. I am always working on a variety of craft and home projects.
Why you enjoy your job:For me the best part of Ulla Eyewear is YOU! I love helping my clients find something new and fun.  I always want to push you a bit- move outside your comfort zone into a look that makes you feel confident and unique.  Stop in and see me, I want to meet you!
Love for other local businesses: As a Madison native I have grown up on a steady diet of local goodness! I frequent Brittingham Boats, RED Sushi, Table Wine and Buraka! Supporting local businesses is extremely important to me so I'm always on the hunt for something new.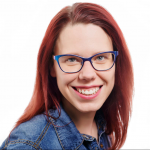 Life outside of Ulla: Reading, karaoke, dancing, and watching cheesy horror films on Netflix.
Why you enjoy your job: I love making sure every customer walks out looking fabulous with great vision in their new glasses.
Love for other local businesses: Cornblooms for amazing comfy shoes, Natspil for great food and music, local consignment shops where you can find one-of-a-kind pieces of clothing or furniture.
Life outside of Ulla: My favorite pastime outside of work is baking. I bake mostly layer cakes and enjoy experimenting with uncommon flavors. I will occasionally make cookies and donuts as well. I also love to draw and have dabbled in watercolors. When the weather is nice I love to go on bike rides or rent kayaks or paddleboards.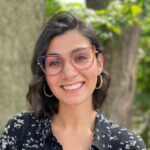 Why you enjoy your job: The best thing about this job is the people I work with. Coming from corporate retail, where there was constant staff turnover, to a small local business has been a refreshing change for me. Everyone who works in the store brings a unique personality to the team and is so knowledgeable about what we do. As the newest addition to the staff, I feel very welcomed and supported by my coworkers. Being part of the team at Ulla feels like being part of a family.
Love for other local businesses: As a baker, I have a special appreciation for sweet treats and frequent both Batch Bakehouse and Greenbush Bakery. I live near the capitol square and like to walk to nearby restaurants such as Merchant, Nattspil, and countless other locally owned establishments.
Life outside of Ulla: I am usually curled up with a good book, playing with my dog, or binge-watching Netflix or Hulu shows. I am a big Nintendo geek (usually I am either playing Super Smash Bros or Mario Kart), a huge comic book nerd, and a Marvel fanatic. I love to sing and play the piano. When the weather is nice, I love being outside, whether that be on the water or in nature. I also try to spend as much time with friends and family as possible.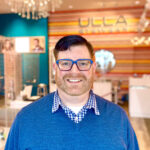 Why you enjoy your job: I love working with people. Getting to know all kinds of people, from every background, is an amazing experience. I have a background in Anthropology, so learning about people is right up my alley. I love helping people think outside the box and choosing frames they normally would not choose for themselves. I also love working with a terrific team of people, who are dedicated to their job and being the best at what they do.
Love for other local businesses:  You might be able to spot me at a few local restaurants, like the Great Dane and Jac's, or supporting my doggo by letting him have some fun at Waggin' Tails Doggie Dude Ranch. I am new to the area, so I am always on the hunt for the next great find, come in and give me some recommendations!
Life outside of Ulla: With the pandemic, my life outside of work has changed dramatically. I have gone from going to concerts and spending time with friends, to staying home, bingeing The Office over and over and playing video games. It has been a huge shift for me, but I am growing to love being a home body. In order to get my dose of social interaction, I stream on Twitch. I play video games and people watch and interact with me in a chat room. It has been such a rewarding experience being able to be a part of a community not only within the video games I play, but the community I am building. When I am not online, you can usually find me cuddling my cat and watching horror films.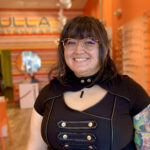 Why you enjoy your job: I love working with a team and feeling like I am a part of something. It feels great to be doing good for people every single day. I feel like I am making an actual impact on my community, something I was never able to really find in retail. The people I get to work with everyday also make this job a treat. Each one of them is so passionate in what they do, it is infectious. Even though I am new, I feed off of that energy and am eager to excel and grow with Ulla. For the first time, I actually look forward to my shifts and love continually learning new things.
Love for other local businesses: One of my all time favorite local businesses is Glass Nickle. I have lived in a lot of different cities and their pizza is the absolute best I have ever had. MadCat is also an awesome local business. I get most of my cat supplies there, and it is always lovely to interact with the staff there as they are very knowledgeable and fantastic at their job. One of my favorite restaurants is Graze. Their breakfast/brunch food is to die for. Lastly, A Room of One's Own is such a treat. I love walking in and just browsing books. This bookstore is larger then it looks and is my number one go too when I am looking for a new book or graphic novel.