BOGO LENS OFFER & SUMMER SALE
Happy July!  Now that we're well in the swing of these hot (and hopefully not smokey by the time you read this) days we have some exciting savings coming your way.
For the month of July we are celebrating the release of the latest and greatest in lens technology with a BOGO promo plus our Annual Summer Sale!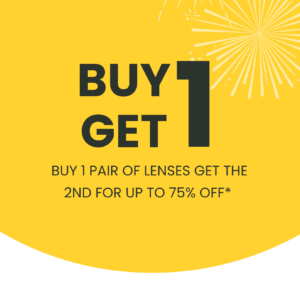 Varilux; the world's leading competitor in progressive lens technology has released a progressive lens with 50% wider field of vision (less outer edge distortion) than its previous top-of-the-line lens and to entice you to try it offering you a pretty sweet deal.
Purchase one set of the lenses and receive the second set of progressive lenses at up to 75% off! *
Don't wear progressives?  We won't leave you without some savings!  We're also offering a BOGO for our single-distance wearers.
Purchase one set of single vision lenses and receive the second set of lenses for up to 75% off as well!*
Want to learn more about the new advancements in this lens technology? Click here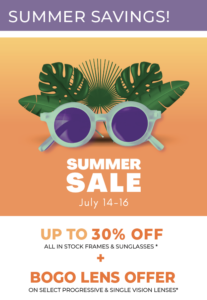 Have you also been thinking about changing up your look?  Jonesing for a new pair of glasses?  Join us during our Summer Sale, July 14-16th for savings throughout the entire store!
All in stock, full price frames will be marked to 15% or 30% off with a select number of frames priced at $100 with the purchase of lenses!  This is a great time to stock up on a pair of computer glasses, second (or third) pair for fun or some sunglasses for golfing, boating and or fishing.