New Year, New Look! 🎉 How to Choose Frames for Your Face Shape
It's 2023! While we're all deep in New Year's resolutions, might we suggest you add a
new pair of glasses to your look? For many, the question is where to start and what works best
for you?!
Here at Ulla Eyewear we pride ourselves on our ability to seamlessly walk you through the glasses
buying process; asking questions and giving solutions that lead to the perfect frame for you! However,
you feeling confident in the choices and knowing what you're looking for is also an important piece of
the puzzle, so read on and let's learn together how to choose the right pair of glasses.
Start by identifying your face shape.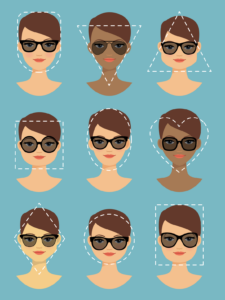 Oval
Balanced features and proportions make for an oval shaped face. To keep this balance in check,
you'll want to choose eyeglass frames that are as wide as (or wider than) the broadest part of
your face.
Heart-shaped
If you divide the face into thirds, with the top third being widest and the bottom narrowest,
that's a heart-shaped face. Reduce the apparent width at the top of the face with frames that
are wider at the bottom.
Oblong
A face that's longer than it is wide with a long, straight cheek line is considered oblong. Go for
frames that have more depth than width or those with decorative temples to shorten the face
and add width.
Square
Square faces have a fuller jaw and broad forehead, with width and length being of equal size.
To soften  the angular look of squarish faces, pick frames with some lift on the outer edges.
Round
Curved lines with the width and length in the same proportions and no angles make for a round
face. You'll want a thinner and longer appearance, so try angular eyeglass frames to lengthen
the face and rectangular frames that are wider than they are deep.
Base-down triangle
The base-down triangle shape features a narrow forehead that widens at the cheek and chin
areas. Add width and emphasize the narrow upper third of the face with frames that are heavily
accented at the brow. Cat-eye shaped frames are also ideal.
When in doubt turn to the experts and allow us to help guide you to the ideal frame for your face shape, prescription and lifestyle!  We're here to help!❤️