HOW DO I KNOW IF MY FRAME FITS WELL?
We get asked a lot "how do you know if this frame fits?" or "what are you looking for?" when it comes to choosing frames for our clients.
Although our training is quite extensive and we take a great deal of pride in our abilities to choose perfect looking and fitting frames for our clients we want to share a few tips to help you on your quest for the next perfect frame!                                   
TIP #1 : The frame must fit the bridge of your nose
It is nearly impossible to get a frame to fit correctly if we're not starting with a great bridge fit.   But fear not; a proper bridge fit can be achieved in many style of frames.
When considering a frame without nosepads there are some specifics we want to look for to ensure a great fit.  Choosing the frame with a bridge/nose opening that is similar in shape to yours (straight, rounded, long, short.. you get the ideas) will greatly aid in the bridge ditting flush on the sides of your nose instead of having gaping or a pinched look.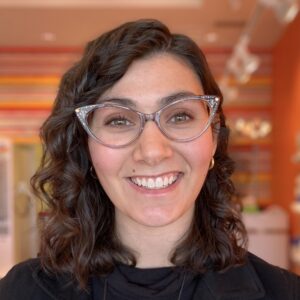 .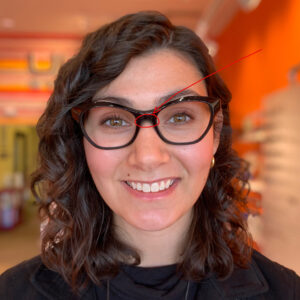 In the first photo of Alia we see that the bridge of the frame rests evenly on all part of her nose. This helps to ensure that the frame will stay in place.  In the second photo there is gapping along the top of the bridge which means that the pads of the frame aren't resting fully on her nose.  This could mean the frame will slip down a bit.
TIP #2:  Choose a frame where your eyes sit as close to the center of the lens as possible
When oversized frames came into style there was a mad dash for the largest frames one could find.  What often happened is the client looked like they were wearing a frame made for someone twice their size.  Now that things are sizing down we're seeing the same thing in reverse.  Below are two options of frames that are not sized well.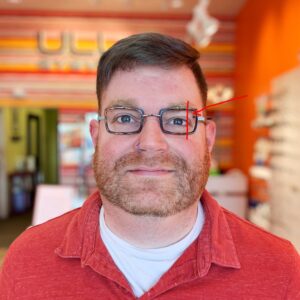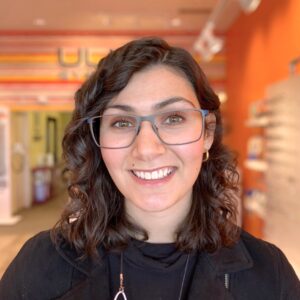 Here Mitch has a very geometric frame that at first glance is so cute! While his eyes are centered in the middle of the lens where he might run into a problem is that the frame is so narrow (left to right) that his peripheral vision could be compromised.  If we had a client loving this look you might find our opticians recommending something similar that's just a little bigger.  Alia on the other hand is showing us a frame that is quite large for her face shape and features.  You can see that her eyes are sitting high and inset toward the bridge of the frame.  That will result in a lot of unusable space on the outer edges.
TIP #3: Choose colors that compliment
With frames of color all the rage right now you're probably wondering what look would be best on you.  While most people will look better in more options then they thing choosing a color for a frame you're wearing every day can feel daunting.
If you're someone with a lot of red in your skin staying away from reds, yellows and oranges will probably be best.  Something in a smoothly green would be a better compliment and probably bring out the color of your eyes.  With deeper skin tones or olive complexions you'll find that jewel tones give that brightness without any sallow undertone.